---
Interlocking Stone and Concrete
Front Entrances and Porches
---
---
At Markstone Landscaping, we provide the following front entrance landscaping services for your home or business:
After all, your front entrance is where you receive guests and neighbours and where you lay your welcome mat! It's vital that a home entrance feels welcoming and has a solid foundation.
The front porch is one of the most prominent features of a home's exterior. A small landing or a large wrap-around patio, your porch is a highly visible design element that requires attention to detail.
Concrete Front Porch and Steps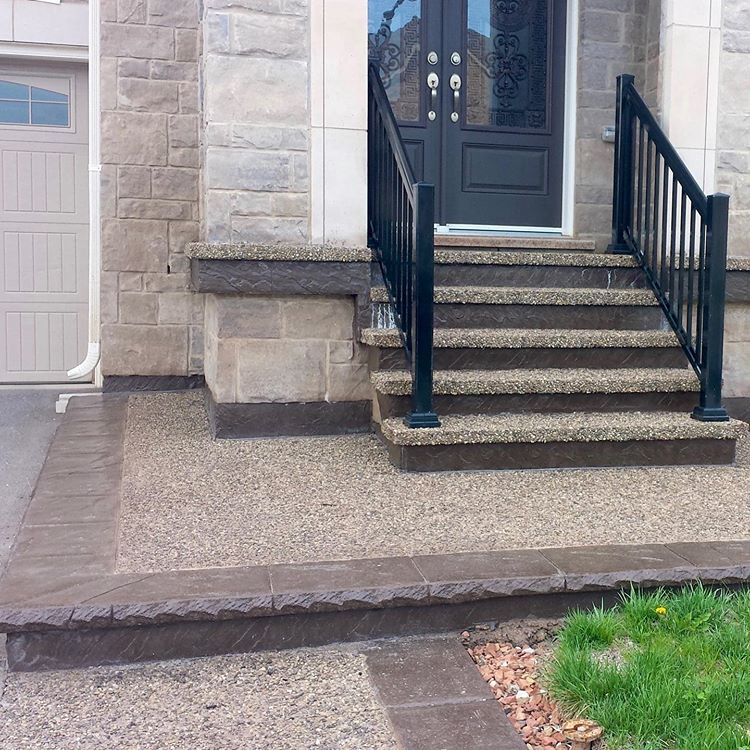 Concrete entrances add value to your property and create durable, slip-free surfaces that reduce the amount of mud dragged into your home.
One of the lowest maintenance options for a front entrance is a concrete porch with matching concrete steps. Using the same colour and pattern for both the stairs and porch pad unifies the look and creates a seamless and elegant transition to your front door.
Many property owners are moving past the look of regular concrete and embracing other concrete finishes, includes brushed concrete, exposed aggregate concrete, stamped concrete and modern limestone-finished concrete. Click here to read more about the types of concrete finishes.
Photos of recent concrete front entrances around Mississauga and Brampton
See more of our concrete front entrance work
---
Interlocking Stone Front Entrances
Many home and property owners choose interlocking pavers to create a dream front entrance that can be seen from a distance.
Interlocking pavers offer unique colours, textures and sizes, giving your front entrance that 'wow' factor many home owners seek. Here are some interlocking design ideas for your front entrances.
We work with you to design a front entrance that will impress your guests, add curb appeal and reflect your style.
---
Photos of interlocking front entrances around the GTA
See more photos of our interlocking front entrance projects
---
Commercial Front Entrances
Just as with a home, the front entrance to your commercial property tells a story.
When it comes to a commercial establishment, your front entrance should convey professionalism and a certain style that matches your company's brand.
To find out how to transform your front entrance, click here for your free, no obligation consultation.  Read our articles to find out how much it cost to install concrete or interlock front entrances and porches. Or take a comprehensive look on the pros & cons of both materials in Pros and Cons of Interlock Paver Driveways and Walkways or Pros & Cons of Concrete Driveways and Walkways.
Serving commercial and residential clients since 2007, we are landscape contractors specializing in interlocking and concrete.  Read our testimonials from satisfied clients in Mississauga, Milton, Brampton, Oakville and Burlington. 
---
---