Curb appeal is a term used to describe a home's visual attractiveness as seen from the street. It's what gives people their first impression of your home before they step inside. It's also a term often used in real estate – great curb appeal can be a significant asset.
Your front exterior sets the tone for your entire home. Outdoor lighting fixtures, the front door, porch seating, and potted plants all work together to reflect your personality and create an inviting space. Hardscaping is also an important element of your home's appeal. Walkways, the porch, and the driveway not only add texture and interest to the front of a house but can add significant curb appeal as well.
Using interlocking stone provides you with a low-maintenance option with a wide range of choice in colour, shape, and pattern so you can create a truly unique front entrance. Concrete is another option, and some people are still surprised to learn the number of options available with concrete. We're used to seeing the more common grey brushed concrete, but there are so many more choices available to you. There are colour, style, and texture options in concrete to suit any home.
If you're looking for a front entryway update, here are some things to think about.
A Well-Defined Walkway to the Front Door
Guide your guests to the front door from the street or driveway with a beautiful, low-maintenance path. A well-defined walkway to the door is welcoming and is a great way to add some texture and character to the yard.
Exposed aggregate walkway from the driveway to the front door
Interlocking path and steps from the driveway to the front door
Interlocking stone driveway extension and walkway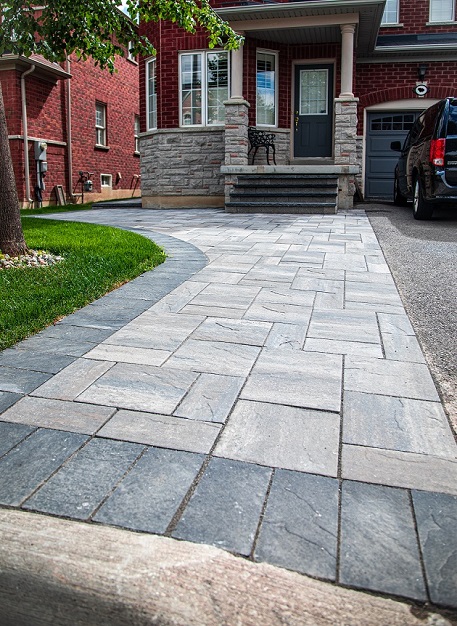 Interlocking stone driveway extension and walkway
Capping the Front Porch
Updating your front porch can drastically change the appearance of your home. No, there's no need to remove your concrete porch – all you need to do is pick the colour and style of interlocking pavers to achieve the look you want. Capping your front porch is a great way to create a welcoming front entrance without having to make significant structural changes to your home.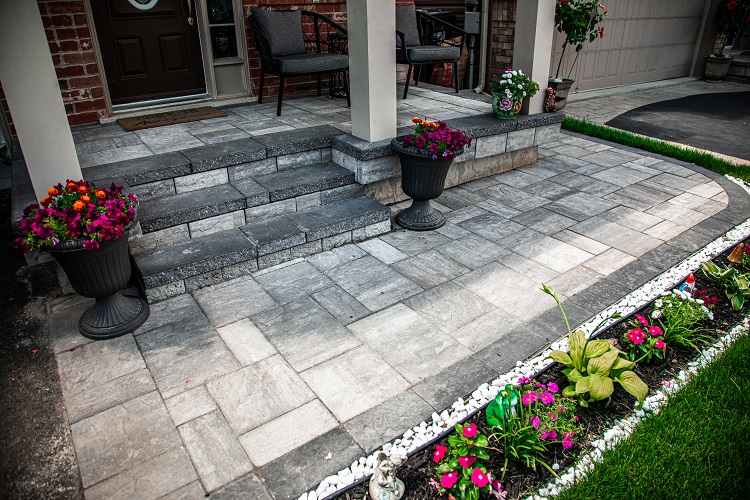 Decorative Stairs for your Front Porch
You can build your steps to create a dramatic impact, or you can have them blend in, giving the spotlight to other features in the entryway. Here are just a few examples.
Interlocking Pavers on Front Steps
Black Limestone Front Entrance Steps
Exposed Aggregate Concrete Steps with Stamped Borders
Exposed Aggregate Concrete Steps with Armour Stone Retaining Wall
No Grass, Low Maintenance Front Entryway
If you like the idea of spending less time cutting grass while still having a beautiful front yard, you can create a stunning patio to welcome guests and add curb appeal.
The Little Extras that Improves Curb Appeal
It's often the little details that add interest and depth to your landscape.  You can add accent colours, bullnose stairs, stamped concrete borders or french curbs at the edges to give your front entrance that luxury feel.
French curbs are a beautiful way to mark the edge of a driveway or path
Bullnose stairs with prefab concrete pavers and black limestone
Contact us for a free quote
There are so many ways to enhance the curb appeal of your home and we can help you determine the right materials and the right design to suit your home. Contact Markstone Landscaping and one of our specialists can guide you through our process of remodeling your front landscape.